#6 Salvation is by Faith plus Works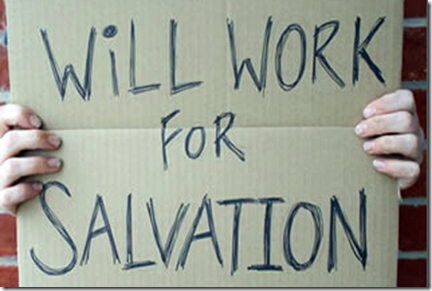 What the Bible says about works salvation:
For by grace you have been saved through faith; and that not of yourselves, it is the gift of God; not as a result of works, so that no one may boast.… (Ephesians 2:8-9)

For all have sinned and fall short of the glory of God, being justified as a gift by His grace through the redemption which is in Christ Jesus; (Romans 3:23-24)

Therefore the Samaritan woman said to Him, "How is it that You, being a Jew, ask me for a drink since I am a Samaritan woman?" (For Jews have no dealings with Samaritans.) Jesus answered and said to her, "If you knew the gift of God, and who it is who says to you, 'Give Me a drink,' you would have asked Him, and He would have given you living water." (John 4:9-10

"I, Jesus, have sent My angel to testify to you these things for the churches. I am the root and the descendant of David, the bright morning star." 17The Spirit and the bride say, "Come." And let the one who hears say, "Come." And let the one who is thirsty come; let the one who wishes take the water of life without cost. (Revelation 22:16-17)

"Come, all you who are thirsty, come to the waters; and you who have no money, come, buy and eat! Come, buy wine and milk without money and without cost. (Isaiah 55:1)

"What then shall we say that Abraham, our forefather according to the flesh, has found? For if Abraham was justified by works, he has something to boast about; but not before God. For what does the Scripture say? "And Abraham believed God, and it was reckoned to him as righteousness." Now to the one who works, his wage is not reckoned as a favor, but as what is due. But to the one who does not work, but believes in Him who justifies the ungodly, his faith is reckoned as righteousness," (Rom. 4:1-5)
The Roman Catholic Church says:
If any one saith, that by faith alone the impious is justified; in such wise as to mean, that nothing else is required to co-operate in order to the obtaining the grace of Justification, and that it is not in any way necessary, that he be prepared and disposed by the movement of his own will; let him be anathema (Council of Trent, Canons on Justification, Canon 9).

If any one saith, that man is truly absolved from his sins and justified, because he assuredly believed himself absolved and justified; or, that no one is truly justified but he who believes himself justified; and that, by this faith alone, absolution and justification are effected; let him be anathema. (Canon 14).

If anyone says that the sacraments of the New Law are not necessary for salvation but are superfluous, and that without them or without the desire of them men obtain from God through faith alone the grace of justification, though all are not necessary for each one, let him be anathema. (Canon 4).
The easiest and most natural thing to believe is that there is a price that needs to be exchanged to receive salvation. The old saying that, "Nothing is free" is set deep in our unconscious minds, and we truly believe it. This is the general conclusion of all unbelievers and most Christians. Even the ones who recite the words "salvation is a free gift" live a life of bondage to laws and pray that their lives are good enough to be accepted by God. The Roman Catholic Church is the chief propagator of this lie, but Protestantism is not much better.
Without a doubt the Bible teaches that salvation is an absolutely free gift that we receive through faith and belief, and is displayed in acts of total trust. The Roman Catholic Church has built its false system on the backs of its parishioners who have bought in to the lie that penance and indulgences are necessary to make the transition through life and purgatory, and then on to Heaven. With this lie they have stripped the poor and ravished nations, and robbed hundreds of millions of eternal life with Christ.
While Romanism teaches that Christ died for our sins, it also teaches that His sacrifice on the cross was insufficient and incomplete, and that our suffering must be added to make it complete. The result of this works based salvation is that a person can never do enough to make atonement for their sins. The whole picture we get from the Old Testament of the endless animal sacrifices and mandatory obedience to weighty laws is a picture of an impossible effort to earn acceptance by God.
The free gift of salvation is illustrated throughout the Old Testament, but in my estimation, the act of creation itself says it best. God could have created man on any day and put him to work earning his keep, and paying for his place in his future home, but God had a different plan. From the very beginning God wanted to illustrate His Fatherly grace and generosity, and He did this by placing Adam in a perfectly completed Paradise, free of charge. On the sixth day, after God had completed all of His other creation, He created Adam and placed him freely into the Paradise of Eden. What did Adam do to earn this gift? Nothing, absolutely nothing! And, likewise, after Christ had completed His work, man is placed into God's Kingdom by simply accepting the free gift. As in Eden there was nothing for Adam to do except to enjoy the gift through the service of thankfulness. On the seventh day God rested, and so did Adam rest in God's finished work. Our "work," if we must speak of works, is to enter into God's finished creation of salvation, provided by the Second Adam, Jesus Christ, our savior.
With the Roman Catholic Church salvation is indeed by works, which is in direct opposition to the Gospel of Christ. What kind of "Good News" is a gift, i.e. grace, that the giver will not let go of without your gift of grace to Him first? That idea is ludicrous and a lie and is not supported at all by Scriptures. Roman Catholic salvation is the bondage in which the Church of Rome keeps its millions of followers secure, in bondage. Against the Roman Catholic Church stand the simple words of Scripture. In response to the question, "What must I do to be saved?" the Gospel answers clearly: "Believe on the Lord Jesus, and thou shalt be saved," (Acts 16:30-31).
The fatal error of Romanism is the denial of the sufficiency of Christ as Savior. Rome has neutralized the effectiveness of Christ's sacrifice on the cross. Jesus' words from the cross, "It is finished" were premature, if we believe Rome. Rome has a christ, but it is not the Christ of the Bible, it is a christ of their own imaginations. The sacrifice of the Roman christ is not finished; it must be constantly repeated (in the mass) and supplemented with works of penance.
Catholicism is a business that dispenses salvation on the installment plan, and then cheats the poor sinner of his purchase by guaranteeing that he will always be behind in his payments. Even at death his survivors are left to continue making these bogus payments in the form of indulgences to the institution to relieve their loved ones from the sufferings of purgatory. It is a complicated system to the extent that not even the priest or pope himself knows when enough good works have been done to finally earn a passage from suffering to Heaven.
All men feel the weight of their guilt and naturally gravitate to a work based system to gain some relief. The Roman Catholic Church system accomplishes, better than any other, the satisfaction the flesh desires to both ease their consciences and free the flesh to engage in more sin.
Biblical salvation is to rest from our own works:
Therefore since it still remains for some to enter that rest, and since those who formerly had the good news proclaimed to them did not go in because of their disobedience, God again set a certain day, calling it 'Today'. This he did when a long time later he spoke through David, as in the passage already quoted:

'Today, if you hear his voice,
do not harden your hearts.'

For if Joshua had given them rest, God would not have spoken later about another day. There remains, then, a Sabbath-rest for the people of God; for anyone who enters God's rest also rests from their works, just as God did from his. Let us, therefore, make every effort to enter that rest, so that no one will perish by following their example of disobedience.