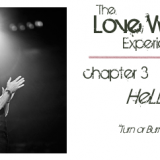 Rob Bell is obviously not one of those to whom the truth has been revealed, and has found it necessary to rely on his own "reason" to try and de-code Bible mysteries. Rob's results are laughable since he overlooks the evident simplicity of "truth."
When Jesus spoke, many misunderstood Him, because He would use the apparent to identify the not-so-apparent. Most often this was seen in the many parables He spoke. Even His Disciples had to be taken aside and the meaning "revealed" to them. We are told that this is how we are to understand everything spiritual; it has to be revealed to us. Also, we are told that to those outside, the answer is not revealed, and that they will remain in the dark.
Understanding the inspired writings of God, which is proven by our obedience, is a wonderful "fruit," and much joy comes as a result; along with much trouble. We are told to look for the fruit to distinguish the true believers from the false. But, in Rob Bell we see no fruit of understanding, only the fruits of a clever mind. Rob stumbles along, when trying to grasp what the Bible could possibly be talking about, when it uses words like "Gehenna." Many in Jesus day were confused by His use of the common to illustrate the uncommon; they just couldn't connect the dots, because the Master did not reveal the answer, and the Holy Spirit had not yet been given.
There were some of those surrounding Jesus who would have understood that the Greek word Gehenna was the same as the Hebrew Old Testament word Tophet , " Topheth has long been prepared; it has been made ready for the king. Its fire pit has been made deep and wide, with an abundance of fire and wood; the breath of the LORD, like a stream of burning sulfur, sets it ablaze," (Isa. 30:33; Jer. 7:31,32.)
Jesus was linking Gehenna with Tophet, and neither Gehenna nor Tophet were the same as Sheol, Hades, the Abyss, or Tartarus, although they were translated Hell. Thus our Savior says in Matt. 10:28, "that we are not to fear them which kill the body, but rather fear Him who is able to destroy both body and soul in Gehenna." This is the same place that John calls "the lake of fire which burneth with brimstone," and into which the Beast and the False Prophet, Satan, Death, Hades, and whosoever is not found written in the book of life, are finally cast, and swallowed up forever; i.e., it is the ultimate "Hell" of full and final punishment.
As far as Rob wishing that this world is "Hell;" he can only wish.
Rob's ignorance of Scripture shows up in his dealing with the Rich Man and Lazarus also. This story is not called a parable, and could very well be the unveiling of an invisible world where departed souls, of both good and bad, continue on in life, after leaving the body. Is not God the God of the Living?
If I may add my two cents worth here concerning Hades I think that the Scriptures have designated Hades as a place, other than just a hole in the ground. A careful inventory of the passages where this word is used I think is conclusive that Hades is the name of a place in the unseen world. But, it is distinct from Hell as the place of the final judgment. The ancient's understanding of the word was that it was a place of departed spirits, a receptacle of souls that have left the body. This is the place where Christ descended into, a place where both good and bad souls, up to the time of Christ's resurrection, went. The reason I say this, is that it seems that Hades was divided into two compartments, one side of which was known as "paradise." Hades is the place where the rich man and Lazarus both went when they died. Lazarus went into the bosom of Abraham, i.e. Paradise. In Hades the rich man lifted up his eyes and seeing Abraham afar off and Lazarus in his bosom. Lazarus was then in Hades too, as well as Abraham, and the only difference was a great gulf between them. Lazarus was comforted and the rich man tormented, but Lazarus was not yet in Heaven. And, also, the words of our Lord while on the cross to the thief; today you will be with me in Paradise, i.e. the better part of Hades. They were neither in Hell nor in Heaven. It is kind of like a holding area for both, a place of detention. We don't hear that there was any compensation given to the good, or of judgment for the bad. Christ, by virtue of death went to Paradise, but not as a subject of death, but as its conqueror proclaiming victory to the departed saints (1 Peter 3:18, 19) and brought with Him the faithful souls as "having the keys to death and to Hades." Paradise no longer is in Hades, but only those who await judgment. "O death where is thy sting? O Hades where is thy victory?" The grave still has its victory, all our dead bodies will end up there, but there is no victory for Hades as to the faithful, but only for those who have no claim in Christ; no share in His redemption. But, Hades is not Hell/Gehenna.
Rob's nice little story may appease weak souls who feed on corn husk, but it will never convince anyone who is filled with the Spirit of God. Rob Bell is an unbeliever and a false teacher which can be proven by his fruits and his theatrics, and his rejection of the simple word of God.